Are there things you need to make your classroom run smoothly? Do you need basic necessities for your students to learn? Or do you have a special project in mind that requires specific materials? Like you, I have answered yes to all of these questions at some point in my teaching career. We all know that district and school budgets are tight, but there are other options. You've got that right! There are options and my favorite is Donors Choose!
Donors Choose is a website set up to allow teachers a safe and easy way to ask the community to help fund classroom necessities or materials for projects. You, as the teacher, create a request for specific items you need for your classroom from the Donors Choose vendors, write a detailed explanation of what you plan to use the materials for, and donors from all over the United States donate to projects they feel are worthwhile. Over the past few years, I have had many, many projects funded, and here are my top five tips to help you be successful with a project on Donor's Choose.
1. Keep Your Project Under $400
Donors want to feel like they are making a difference by donating. If donors are giving $25-$100 (which is the average donation), they can make more of an impact with projects under $400. Donors also like to finish projects and that's a lot easier when projects are not so big.
2. Think of a Catchy Title
Think of a great movie or book title. Would you have wasted your time seeing E.T. The Extraterrestrial had it been called A Boy's Life? (This was the original title.) Make sure it is catchy but also tells what your project is about.
See more on my personal Donors Choose page >>HERE<< and you can see my past projects too.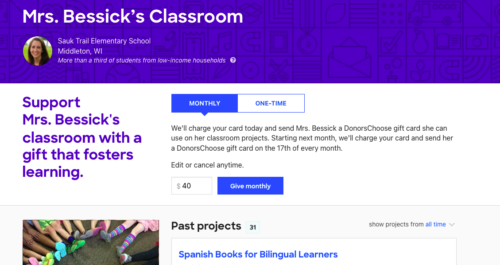 3. Be Specific
Tell donors exactly how you plan to use your materials. Don't forget to include how the items will directly impact your students and their educational experience.
There are sections of the grant application where you should give detailed information about how you will use the materials, and then the "where the donation goes" tells each specific item you've asked for.
4. Keep Your Eye Out for Match Donations
There are businesses, companies, and individual donors who will mass fund or match donations for certain types of projects based on the criteria they choose. Check the page at https://www.donorschoose.org/match-offers to see what is available in your state.
For example, several teachers from my school and the whole state of WI had projects funded by Herb Kohl from the Kohl Foundation. Bill and Melinda Gates have matched donations as well.
Some common times for matching are in August during back-to-school season, on Giving Tuesday, and during Teacher appreciation in May.
5. Let Everyone Know You Have a Project Posted
I know, I know, you don't want to sound like you are begging for money. You're not. I have found that many people want to donate to worthy causes. People love knowing exactly where and how their money is being spent. Once your project gets funded on Donors Choose, you write a personal thank you on their website, submit some pictures of the items in use (don't worry, no student faces or names can be shown), and sometimes send thank you notes written by students are also requested They know exactly how their donation is being used! Put it on Facebook or email family and friends, and then don't be surprised when they donate because they want to support you.
I have had friends from high school or past parents donate, so don't count anyone out.
Donors Choose has suggestions for emails you can send. Definitely check them out if you're wanting to send to family or friends.
And don't forget to share that
Donors Choose Project Examples
Here are some examples of projects that myself and other teachers. in my school have had funded. The possibilities are endless.
Sweet Seats for Active Learners
This was one of my first and probably most favorite because I still use all of these things. This project included wobble stools and wiggle cushions.
You can read more about how I use flexible seating in my first-grade classroom >>HERE<< and >>HERE<<!
CD Players to Enhance Our Reading Listening Center
This project included CD players and organizing materials.
Solar Cars Grand Prix
This project included some amazing solar car kits.
Other Project Ideas
Markers for Math included materials and manipulatives for math.
STEM: A Bundle of Fun included STEM kits.
Don't forget to pin this post for Donors Choose examples and to share with others.
Have some questions? Please email me >>HERE<< so I can get back to you! What items are at the top of your list? What items have you already asked for?