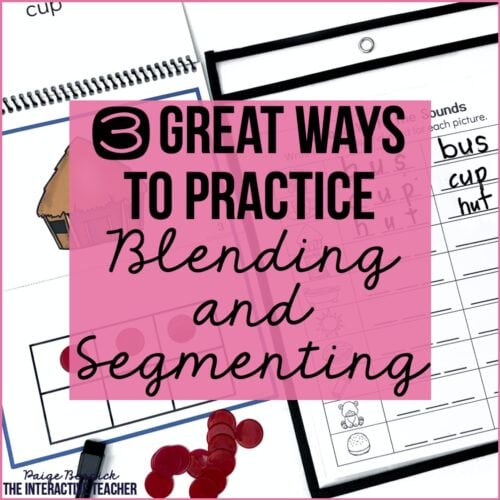 The Difference Between Blending and Segmenting
Blending and segmenting are very closely linked skills but with significant differences. Both are important in early phonics instruction, and students need both skills to read and write words. Both skills involve isolating each individual sound in a word.
But what's the difference between the two?
Blending involves merging phonemes (letter sounds) together to form words. Segmenting involves separating a word apart into individual sounds.
Why are Blending and Segmenting Important?
The sounds of the alphabet are the foundation of all reading. Students can't decode words until they can see and hear the individual sounds in them. Students should be able to break a new word apart by sound to decode, then blend the sounds together to read the word. In order to prepare them for those moments, blending and segmenting practice in whole groups or small groups is important! Today, I have three strategies for teaching and practicing these skills in first grade.
Tips for Teaching Blending and Segmenting
The next three tips are strategies you can use to teach both blending and segmenting. You can give words to students and have them break them apart, or segment them, or you can give students sounds and they can blend them together.
1. Elkonin Boxes
Elkonin Boxes are a powerful visual for both segmenting and blending words. For each phoneme, a word has, simply draw a box to represent that sound. The number of sounds a word has does not always match the number of letters. This is an important distinction for students to be able to make, and Elkonin Boxes make that understanding more concrete. Students tap the boxes as they say each sound in the word. The act of blending the sounds after saying each one helps students decode and read new words.
Interested in using something like this in your classroom? Grab my phonics boxes HERE!
2. Chips/Unifix Cubes
Colored chips or Unifix cubes are another powerful visual to use when segmenting and blending words. What makes a physical manipulative like these so great is the ability to remove a cube. This represents taking one sound out of the word. While working with a student, remove one cube and replace it with a different color. Tell students what sound the new color represents. Students must then segment each sound, then blend them together.
Elkonin Boxes and Chips
I like to join Elkonin boxes and chips or cubes together for even more bang for your buck! With the phonics boxes, students move a chip or cube for each sound into one of the boxes.
Then, once students are able to do that with mastery of the sounds, add in the writing of the sounds.
As an extra additional practice, students can use these flipbooks that include the boxes, chips, and writing for specific phonics skills and CVC words. My first graders LOVE these books and can't wait to get a new one with each short vowel sound. This has been especially helpful for my bilingual learners. You can pair them with a partner who can share the word with them, or complete them in a small or guided phonics or reading group.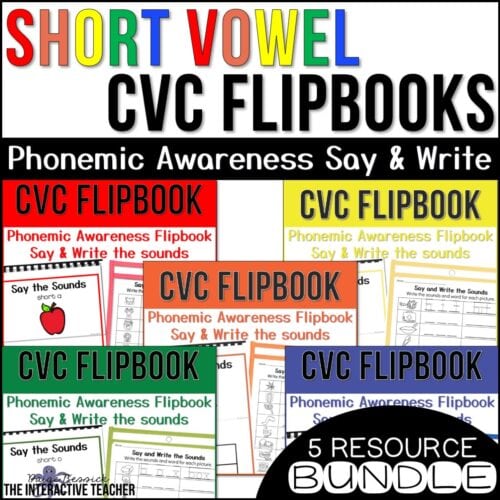 Check out all of these flipbooks and save by buying the bundle. Get a FREE magic e flipbook when you buy the bundle.
Magnetic Squares
Similar to chips and boxes, magnetic squares or tiles can also represent different phonemes. Students can connect sounds together to make a word, then swap sounds out. Creating as many opportunities for students to hear and read sounds in isolation, then blending them together, will boost decoding skills. Boosting decoding skills leads to improved fluency, which supports overall comprehension!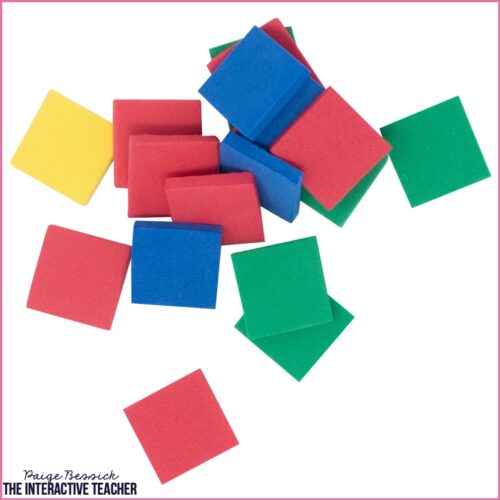 3. Blending Boards to Practice Blending
One activity that my students especially love and I have found to be a HUGE help in our blending ability is something called Blending Boards. A blending board has become popular recently from Orton-Gillingham and IMSE. A blending board is a practice of giving students individual phonemes, 1 at a time, and then students blend them together to make a word.
This can be done with physical alphabet, blends, and digraph cards, or on a digital board with Google Slides or Powerpoint.
The best part about these blending boards is that they can be completely editable to meet the needs of your learners. I love these seasonal ones because I can change them to have the phonics skills we are working on during that season.
Check these out!
I also love these more phonics-focused blending boards for each of the short vowels. These boards are already done for you and include multiple differentiation options.
Practicing Segmenting and Blending
Want to learn more about how we practice segmenting and blending in my classroom? Check out these Instagram reels and videos to learn more. And make sure to follow me on IG to see other tips and tricks I share for first grade.
Using these strategies, students are sure to improve their decoding skills. How do you practice these skills in your classroom?
Want to try one of the CVC flipbooks for FREE? Click HERE to try one before you buy.
Whether you want to add in more blending or segmenting, or both into your daily routines, these are great tips and ideas to try with your learners.
Check out these two blog posts to learn more about phonemic awareness and phonics.
Please pin and share so others can see.