Phonics instruction can be so fun. It is one of the few areas in the literacy block that allows for plenty of hands-on practice. In this blog post, I created a list of must-have tools for organizing your phonics supplies.
Using all of these different materials and manipulatives in your instruction is great for engagement. But what happens when your room looks like a tornado went through it because you have magnetic letters, sand, stamps, and more out at the same time? Today I have some tips for keeping your phonics supplies organized!
This post contains affiliate links for Amazon. By purchasing an item on the Amazon site using these links, I will receive a small commission on your purchase. This helps me continue writing this blog and providing you with teaching tips and ideas. Thank you!
Tip 1: Stackable Trays
If you have trays filled with sand, or maybe magnetic trays filled with letters, have an area in your room designated for stacking these trays together. This keeps things from spilling out throughout the day if people bump into them, and keeps everything contained in one tidy corner. When students go to these phonics centers, they can simply move the trays to a desk or table, and keep all materials inside the tray.
I love these trays! Right now I have sand in them for our 3-part OG (Orton Gillingham) drill. I've also used them for organizing letter tiles, art supplies, phonics boxes, or letter stickers, really, I use them for many, many things. And they are stackable.
I've done a few Instagram Reels demonstrating how I use these trays in my classroom. I have the ones above AND some really old ones that I use too. Check out THIS or THIS reel.
Tip 2: Plastic Organizer to Keep Letters Sorted
There can be a lot of wasted time when students go to build words with letter tiles. Students dig through the bin to find the letter they need or dump them out all over the floor to find things faster. I recommend using a plastic organizer with the different sections for each letter. Keep the letters sorted that way, so students can easily find what they need, and cleaning up is a breeze!
Even better are individual letter sets for each student. I have some from a long time ago from Primary Concepts, but I don't think they have them any more. These are similar ones from Amazon.
Already have the letters but just need to organize them? Grab THIS clear bin to help you.
Tip 3: Use a Rolling Cart to Store Different Phonics Supplies & Centers
If you have a variety of different activities that students will be doing for phonics throughout the year, organize them all into one rolling cart at the beginning of the year. Then, you can simply assign different color drawers on different weeks to expose students to the different types of activities. You could keep stamps with blank paper and word lists in one, your plastic letters in another, white boards and markers in a third. The list goes on. But, having all of those materials in a rolling cart makes it easy to keep things stored in a place where they won't get in the way, and it's all easy for students to access.
My rolling cart is one of my favorite organization tools in my classroom. And I'd argue there is nothing more pretty than rainbow colors. ????
THIS one is from Amazon, but I know Target and Michaels often have them and on sale, too. Watch for back-to-school sales.
I've got my eye on THIS bigger rolling rainbow cart. I imagine morning bin materials going on the left and phonics supplies going on the right. I will plan on doing a Donors Choose project before school starts for some more supplies that I want for my classroom.
Need help with Donors Choose or getting started? Check out THIS blog post for tips and tricks, or email me. I'd love to help you!
You can find an entire bundle of activities for students to do throughout your year HERE. Prepping these sorts and activities early in the year will make it easy for you to swap activities out, and keep things fresh for your students!
Tip 4: Organize sorts in photo bins
Sorts are some of my very favorite phonics tools. I love using them for whole group, small group, centers, and independent practice.
I use sorts to introduce a phonics skill that I'm teaching and we use them to practice these skills by reading, writing, and sorting them.
THESE photo storage bins are perfect for sorts. And rainbow again. ???? I mean, I'm pretty sure they were made for teachers.
Tip 5: All of the envelopes
Envelopes are another very versatile way to organize phonics skills. Whether it's a whole phonics skill, or individual sorts or words, these are a few of the envelopes that I use.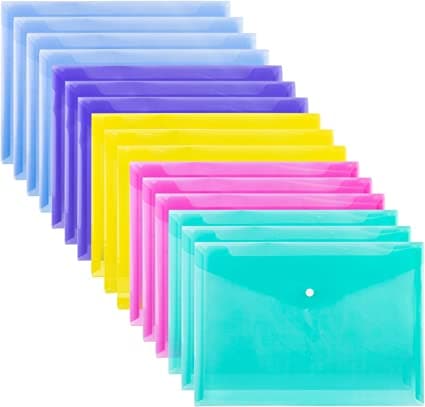 Tip 6: Have Phonics Supplies Expectations
One of the biggest pieces of advice I can give teachers about keeping their rooms organized is to place the bulk of the responsibility on the students. After all, this is everyone's classroom… not just yours!
If the students are the ones using the materials in centers, they should be just as responsible for keeping things neat and organized. At the beginning of the school year, as you are introducing these materials, take the time to teach exactly how you want them to be put away after they are used.
Create posters with step-by-step directions. Take a picture of what using the phonics supply looks like when it's all cleaned up so students have a visual representation of your expectations. Practice getting things out and putting them away. If the students are cleaning up after themselves each time they go there, your materials will last longer in the year, and your room will always be neat!
Amazon Store for Phonics Supplies
Want to see all of these phonics supplies and more all in one place? Check out my Amazon Store Phonics List.
---
These tips will keep your phonics materials neat and organized this year. How do you organize your phonics supplies in your room? Anything I'm missing? Email me, or DM me on Instagram and let me know what I need to have.
And as always, please pin it so you can come back to this and share it so others can read it.
Until next time, happy organizing.