Thanksgiving is such a special time for my family, and I love sharing these Thanksgiving and fall books with my first-grade students. Not only is it a time to be thankful, but it is also a time to come together and show gratitude to those around us. Whether I'm reading them to my own sons or my students, here are 10+ of my very favorite Thanksgiving (fall and turkey) books.
This post contains affiliate links for Amazon. By purchasing an item on the Amazon site using these links, I will receive a small commission on your purchase. This helps me continue writing this blog and providing you with teaching tips and ideas. Thank you!
---
Whether you are looking for books to read aloud or for shared reading, I have you covered! These books are perfect for fall and Thanksgiving and are incredible books to read throughout the month of November.
I'll start with my very favorite Thanksgiving and fall books for read alouds! Interested in learning more about Interactive Read Alouds? Check out >>THIS<< blog post: Everything You Need to Know about Interactive Read Alouds.
Thanksgiving Read Aloud Books
My favorite Thanksgiving book has to be 'Twas the Night Before Thanksgiving written and illustrated by Dav Pilkey. This sweet story follows a class on a field trip to Farmer Mack Nuggett's turkey farm. This fun rhyming book will be a hit with your primary students.
If you're looking for a fun and easy read aloud for the weeks before Thanksgiving, check out this interactive read aloud resource from my TpT shop! You'll love how easy it is to prepare this resource and all of its components. The vocabulary, comprehension, retelling, and the ability to compare this to the well-known 'Twas the Night Before Christmas, or other 'Twas the Night Before books will be a hit.
If you're familiar with my favorite St. Patrick's Day read aloud for How to Catch a Leprechaun, you'll be a big fan of How to Catch a Turkey by Adam Wallace and Andy Elkerton. A turkey is on the loose in the school! What will the kids do? Can you help them catch it? This cute, rhyming book is sure to be another favorite.
Another favorite of mine is Gracias, The Thanksgiving Turkey by Joy Cowley. This one has been on my shelf for several years. Scholastic has the best price for it right now! It's one of my go-to read alouds with my dual-language students. This is one of the few Thanksgiving books that I have that has a kid who looks like them. They love that the turkey's name is Gracias and the other Spanish words throughout the text. This story of a Puerto Rican boy who saves the life of his pet turkey is as sweet as they come.
If you're familiar with the Bear series by Karma Wilson, you don't want to miss out on this one for Thanksgiving. Bear Says Thanks is a cute story of Bear and his fellow animal friends who share a feast together.
Want this Interactive Read Aloud for Bear Says Thanks for FREE? Grab it HERE!
UH OH! Turkey is in trouble! Turkey Trouble by Wendi Silvano will get your students' imaginations going. How can Turkey disguise himself to save himself from being eaten on Thanksgiving? I'm sure he's not the only turkey who feels like this each year. Ask your students to come up with ideas for disguises for Turkey and have them write about them. Definitely something fun for the last few days before break.
Who doesn't love the Macy's Day Thanksgiving Day Parade? I grew up watching it each Thanksgiving and have fond memories of watching it with my own children. Balloons Over Broadway: The True Story of the Puppeteer of Macy's Parade by Melissa Sweet is an award-winner! Find out how these infamous Macy's Day Parade balloons work. This one is better for older grades, but one that I find so fascinating.
10 Turkeys in the Road by Brenda Reeves Sturgis is a great Thanksgiving counting book! These circus turkeys are really quite annoying to the farmer who is trying to get by. This rhyming, counting book will surely make your students giggle. Wait until you see what happens after all the turkeys leave.
Thanksgiving Shared Reading Books
I am a HUGE fan of shared reading. I do it whole group or small groups throughout the year and the students love it too. Want to learn more about shared reading? Check out >>THIS<< blog post: What is Shared Reading and Why It Is So Important.
I absolutely love this book that I got from Scholastic a few years back. Thankful by Eileen Spinelli, illustrated by Archie Preston is an adorable rhyming book that tells us to celebrate everyday things. It is the perfect shared reading book. As a LEVEL K, this could work well as a small group or whole class shared reading. You'll absolutely LOVE the ending.
Who doesn't love these classics? I'm partial to There Was an Old Lady Who Swallowed Some Leaves, but also know that There Was an Old Lady Who Swallowed a Turkey is a good one too. Both of these books are a LEVEL K! The repeating phrases and sing-songy tune are a fun way to teach so many reading skills through shared reading. Your students probably already know the tune or rhythm so they'll have to pay extra close attention to the words, which makes this great for shared reading.
This LEVEL J book, We're Going on a Leaf Hunt by Steve Metzger, illustrated by Miki Sakamoto is just the cutest for November. Following a similar pattern as the well-known song, We're Going on a Bear Hunt, your students will love reading along and acting this one out.
Honorable Mentions
I have several other books that I wanted to share. You have probably heard of some of these, but I love them so much I couldn't leave them out. Check out my Amazon store to see them.
Virtual Classroom Read Alouds
As I was trying to figure out how to share all of these books with my students this year (2020), I came up with the idea of making a virtual bookshelf. Whether you share it via Seesaw, Google slides or through email, your students can listen to these fabulous Thanksgiving books at their leisure.
Interested in this editable virtual classroom? Click >>HERE<< to get it sent to your email! It will be a Google drive resource, so make your copy and add your own Bitmoji. Then you can download it as a PDF, or share it through Google.
Before You Go…
One more thing I want to mention is the importance of telling the correct Thanksgiving story. I'm not here to tell you that story, or what you should be teaching your students, but I just want to tell you about the importance of making sure you are teaching your students what really happened. If you're questioning the books you are sharing, look them up, do some research, and ask around.
Please pin and share for others.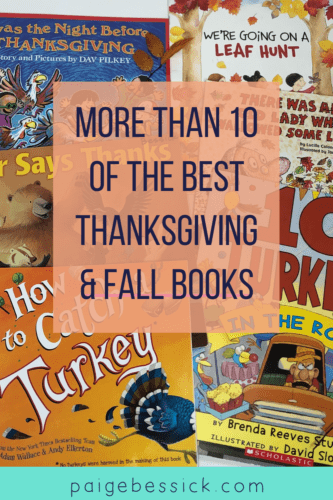 What is YOUR favorite Thanksgiving or fall book? Let me know in the comments. I'm always looking for new books to share with my students.
Happy Reading!