It's time for a New Year and 2022 can't come soon enough. #amiright I am ready for a new year and I'm ready for my first few days after winter break with my first graders. This New Year's resolutions read aloud lesson plans and activities has everything you need for an interactive, engaging, and fun read aloud right after winter break.
**This post contains affiliate links to Amazon. By purchasing an item on the Amazon site using these links, I will receive a small commission on your purchase. This helps me to continue writing this blog and providing you with these tips and ideas. Thank you!
---
While there are a number of New Year's Day and resolution books out there, this one is definitely a favorite. I'm really particular about which books I spend my time making into read alouds and which ones I share with my students. Squirrel's New Year's Resolution is about a squirrel who just can't seem to figure out her New Year's resolution. While all her friends have theirs, you'll love what hers ends up being!
Click the image or >>HERE<< to buy from Amazon.
I love this resource and everything it includes. If you've ever read any of my other blog posts about other Interactive Read Aloud resources, this one includes the same things. You can see blog posts about these books: My Mouth is a Volcano, Chrysanthemum, First Day Jitters, Last Day Blues.
This resource has everything that is typical in one of my Interactive Read Alouds, but it also includes some great extras that I think you're going to LOVE!
Click >>HERE<< or on the image to be taken to the resources in my TpT Store.
Lesson Planner and Sticky Notes
This resource includes detailed directions, comprehension, and stopping points for 2 complete readings. These pages include everything you need to give this read aloud and 2 options for planning: printing on sticky notes and print and cut notes.
You'll love how easy it is to plan and if you've never printed on sticky notes, you are missing out. Check out >>THIS<< blog post: 3 Easy Steps to Print on Sticky Notes
Background Knowledge and Vocabulary
Building background knowledge is an important step in read alouds, especially if you have bilingual learners, or students with special needs. By brainstorming what they know about New Year's resolutions students will get their brains thinking about what they know or remember about that topic. This is also a great oracy building activity where students can chat about this vocabulary word.
Like most of my Interactive Read Alouds, this one also includes vocabulary resources. The vocabulary word for this resource is resolution. Also included are a vocabulary information sheet with ideas and suggestions, sticky note printables, and print and cut notes for just the vocabulary words as well as a worksheet your students can use to define and support their learning.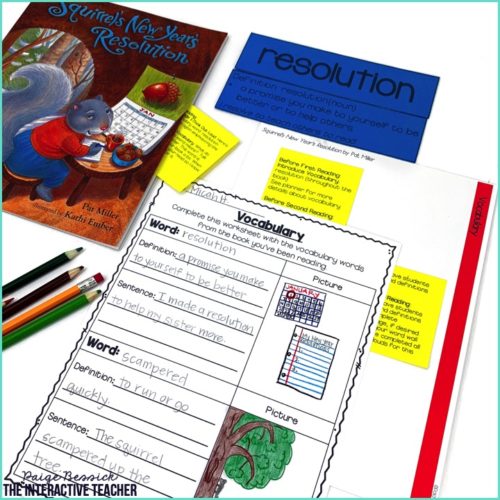 Story Elements and Retelling Activities
This resource also includes pocket chart headers, cards, and pictures for teaching story elements and retelling, two very important first grade reading standards.
Story elements include characters, setting, problem, and solution. These are the focus skills in the second reading of this New Year's read aloud. Print the headers on different colored cards and have students help you come up with the pictures and words for each of the story elements. A few story elements worksheets are included that students can complete independently, with partners, in groups, or as a class.
Retelling is another important first grade standard that I practice and teach with a lot read alouds that I complete. Similarly to story elements, with this actiity, print the heading cards on a different color and use the included story parts, or have students come up with some on their own. This New Year's read aloud works out well because of the number of animals in the book. I love it when that happens.
There are also several retelling worksheets, including a cut and glue worksheet which my students always love! Have them write, or color, or whatever works for you. These are meant to be differentiated for all of your learners as there are several options of most of the printables.
Resolutions Activity and Bulletin Board
I love anything that makes for an easy bulletin board, and how cute would a Forest of Resolutions one be?!
As you learn about the vocabulary word resolution and read the book, have students think of a promise they want to make to be better or help others. Then have them complete one of the pine tree worksheets. They can either just write or write and draw.
Free Seesaw Activity
I also made a FREE Seesaw activity for you if you're virtual. After you read the book, assign this activity to your students. Choose the tree that you want them to complete, or let them choose.
Additional Read Aloud Resources
Additionally, here are some more read aloud resources that you might find useful.
As always, I truly appreciate when you pin and share this for others to see.
Happy reading!